Plan your trip to Montreux, Switzerland
Located between Lake Geneva and the mountains, the town of Montreux looks like a postcard landscape. A real corner of paradise with its flower-lined promenade, its sculptures of artists and its Belle Époque style buildings.
Montreux's favourable and temperate microclimate, which for example allows the city to be home to numerous palm trees, quickly attracted a large number of tourists in the last century.
No surprise therefore that a large number of artists, writers and travellers have decided to settle in the region, such as Charlie Chaplin, Igor Stravinsky, Empress Sissi, Lord Byron, Vladimir Nabokov and of course Freddie Mercury!
Cultural and musical events have had an important place for many years, it is notably since 1946 that the city of Montreux became known to classical music lovers thanks to the Septembre Musical festival. The famous Montreux Jazz Festival, which has been held annually since 1967, also attracts many music enthusiasts. One can also mention its magnificent Christmas Market in winter or the Montreux Comedy Festival.
---
Discover our offers
Freddie Tour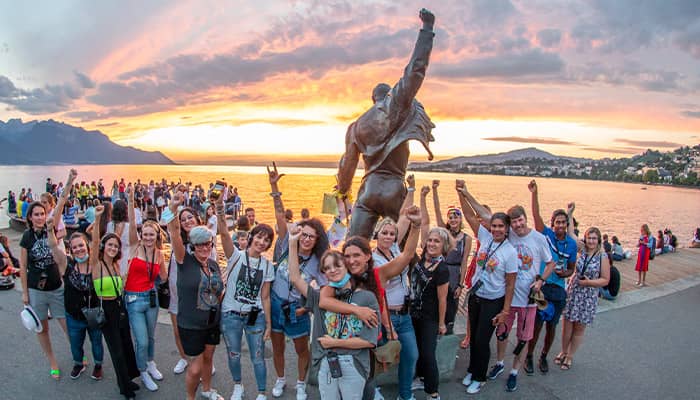 Accompanied by a guide and an audioguide, follow in the footsteps of Freddie Mercury in Montreux. You will learn more about the singer's relationship with Montreux through photos, anecdotes and fascinating stories.
62 available dates
Freddie Tour (Extended)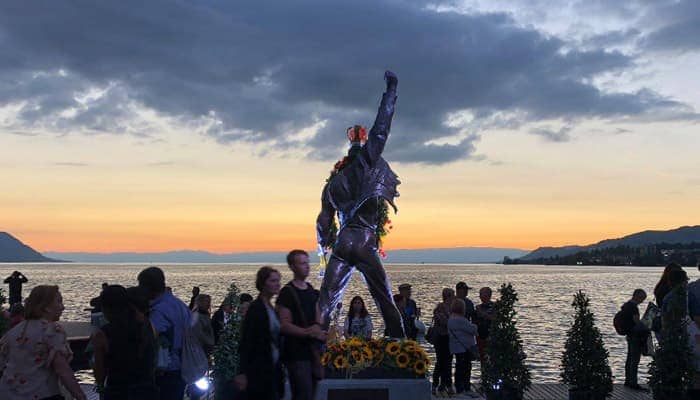 For fans and unconditional lovers of Freddie Mercury and Queen, an extended version of the Freddie Tour. Our guided city tour of Montreux will take you to discover unique locations and the secrets that surround them.
44 available dates
Freddie Evening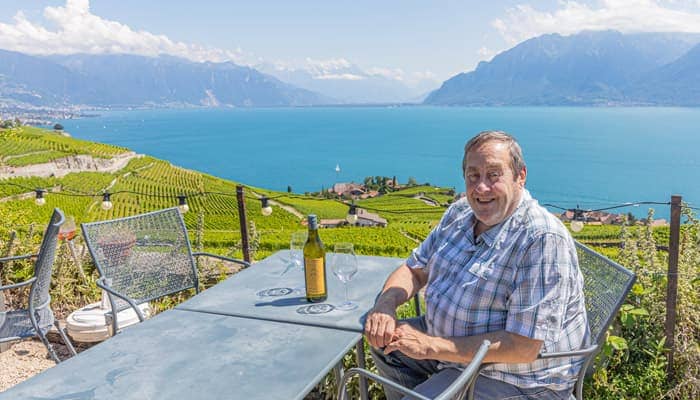 With Peter Freestone, discover the Lavaux (UNESCO) and spend the evening in his presence in the family estate of a winegrower. Freddie Mercury particularly appreciated the wine of this region.
29 May 2021 - 17h00
Freddie Evening (VIP)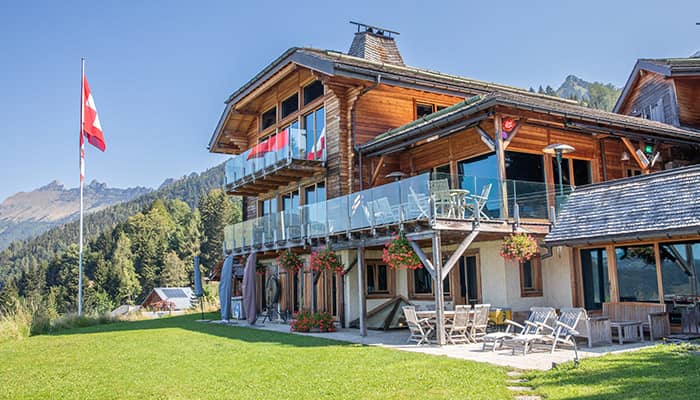 Spend an unforgettable evening in the presence of Peter Freestone at the mythical chalets of Claude Nobs, founder of the Montreux Jazz Festival, discover rare objects.
28 May 2021 - 16h00
---
The region also includes some of the best hotel schools in the world as well as several renowned private clinics. It also has infrastructures adapted to the organisation of first-class international conferences. 
The town of Montreux, which has a population of about 27'000 inhabitants, lives today mainly from tourism.
Freddie Tours is already looking forward to welcome you here. You will find on this page a lot of information that will help you plan your trip to Montreux.
If you have any questions related to Montreux, please do not hesitate to contact us.
---
must-see attractions in the area
Queen - The Studio Experience
Montreux
This exhibition-Museum is held within the walls of the Montreux Casino, in the same place where the famous "Mountain Studios" was once installed. Once owned by the band Queen, the area now contains a collection of archives, personal objects and instruments from the time when Freddie Mercury was closely linked to Montreux.
www.mercuryphoenixtrust.com
Chillon Castle
Veytaux
Regularly animated by exhibitions and cultural events, the Castle of Chillon, a former 12th century fortress built on a rocky island overlooking Lake Geneva, has today become an important historical and cultural attraction in the region. It is the most visited historical monument in Switzerland.
www.chillon.ch
Chaplin's World
Corsier-sur-Vevey
Discover the magnificent residence of Charlie Chaplin on the hills of Vevey. With 1,850 m² of themed tours, the museum presents the humour and emotion that were so important to Charlie Chaplin and that have seduced the whole world.
www.chaplinsworld.com
GoldenPass Train
Montreux
Departing from Montreux, embark on a train journey and discover tipical Swiss landscapes like green hills and majestic forests. The GoldenPass line allows you to admire a magnificent view through the panoramic windows of its Belle Époque train.
www.mob.ch
CGN Cruise
Montreux
An original way of transportation, cruises on Lake Geneva (departing from Montreux, Vevey or Lausanne) are a popular leisure activity both for locals and tourists from all over the world. During the summer months, the numerous boats of the "Compagnie Générale de Navigation" (CGN) constitute one of the most renowned Belle Epoque fleet.
www.cgn.ch
Rochers de Naye
Montreux
To reach its summit at an altitude of 2042 metres, a rack railway train will take you every hour from the Montreux railway station. After a wonderful 55-minute ride, you will have the chance to discover a unique panoramic view of the Swiss Alps as well as the French Alps, including the famous Mont Blanc just opposite.
www.mob.ch
Lavaux Vineyards
Lavaux
A visit to the terraced vineyards of the Lavaux, classified as a UNESCO World Heritage Site and which produce famous white wine, is essential as the panorama is so impressive. Freddie Mercury particularly appreciated the wine produced in this region.
www.lavaux.ch
The Alimentarium
Vevey
The Alimentarium, founded by the Nestlé company, which has been headquartered in Vevey since 1866, offers you the opportunity to explore the themes of food and nutrition. Opposite, its giant fork standing in the lake is also one of the places not to be missed.
www.alimentarium.org
The Glacier 3000
Les Diablerets
A little fresh air, spend a day in the high mountains on Glacier 3000 in Les Diablerets. Snowed in winter and summer, it is a unique summit in the world and will let you enjoy a breathtaking view of the Swiss Alps.
www.glacier3000.ch
---
How to get to Montreux
By plane: The closest airport to Montreux is Geneva Airport (GVA), located at the other end of the lake in the west of Switzerland. It then takes about 1 hour (by car or train) from Geneva to Montreux. www.gva.ch
By train: The 1 hour journey between Geneva airport and Montreux will allow you to admire magnificent landscapes and the Lavaux vineyards listed as a UNESCO World Heritage Site. The Montreux train station is located in the city centre. For timetables and prices : www.cff.ch
By bus: The "Marché Couvert", meeting point of Freddie Tours, is located at the "Montreux Marché" bus stop of line 201 (main line linking Vevey to Villeneuve). The "Montreux Convention Centre" (2m2c), meeting point of Freddie Tours (Extended) is located at the bus stop "Montreux, Centre des Congrès" of the line 201 (main line linking Vevey to Villeneuve).. www.vmcv.ch
By car: although we advise you to come to Montreux by public transport, a 450-space paid public car park located under the covered market right next to the Freddie Mercury statue is at your disposal. Other paid parking spaces are available in the city.
Accommodation in Montreux
You can visit the Montreux Riviera Tourist Office website: www.montreuxriviera.com in order to easily book accommodation according to your budget and preferences.
Many other accommodations are also available in Vevey as well as in Villeneuve. It is very easy to get to Montreux from Vevey or Villeneuve. It takes about 15min ride by bus (line 201) or 5min by train.
Montreux Map
Here is a map that will allow you, in addition to the Freddie Mercury statue, to locate the departure point of our 3 different city tours: