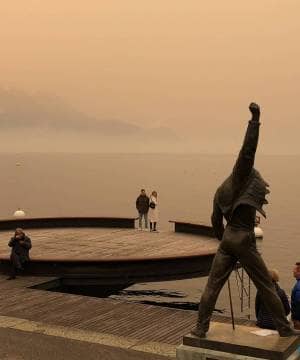 A Sahara-coloured sky covers Montreux!
Today a warm wind has carried sand from the desert giving an ochre colour to the atmosphere and offering a spectacular view to the statue of Freddie Mercury.
About 60 to 200 million tonnes of dust have risen several kilometres into the air due to the weather conditions and warm temperatures, before being carried to Switzerland by southerly winds. Known to meteorologists, this relatively rare phenomenon is harmless to humans. It is linked to a strong air flow from the south which brings spring temperatures and a high concentration of Saharan dust suspended in the atmosphere. This sand came mainly from north-west African states: Algeria, Mauritania and Mali.