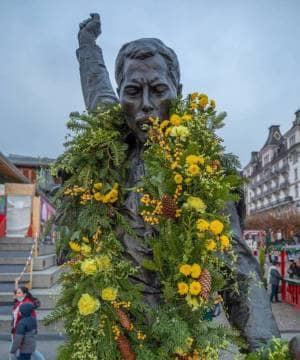 Decoration of the statue for the 30th anniversary of Freddie Mercury's passing.
On this very special day, all the money paid by Freddie Tours participants was used to decorate the statue and pay tribute to Freddie Mercury.
The rest of the money will be donated to the Mercury Phoenix Trust. Founded by the remaining members of Queen after his death, this foundation is dedicated to the fight against AIDS.
So a heartfelt thank you to the 20 people who took part in this Freddie Tour today, 24 November 2021, which marked 30 years since the legendary singer's death.
Thanks also to Peter Freestone, Freddie Mercury's personal assistant for 12 years, who gave us a nice surprise today. A video conference was organised and participants were able to chat with him for a few minutes during this Freddie Tour.
The Show Must Go on !